Our Values in Action: Living up to Dr. King's #LegacyofService
January 5, 2018
During the weekend of MLK Day, we're activating our veterans and civilian allies to bring Dr. King's core values to life. This is your chance to translate shared values into positive action and make a difference!
The aim of these #LegacyofService projects is to get folks of all backgrounds, civilians and veteran alike, to come together to continue what Dr. King and the Civil Rights Movement did for our country: make it a better, stronger, more equal place.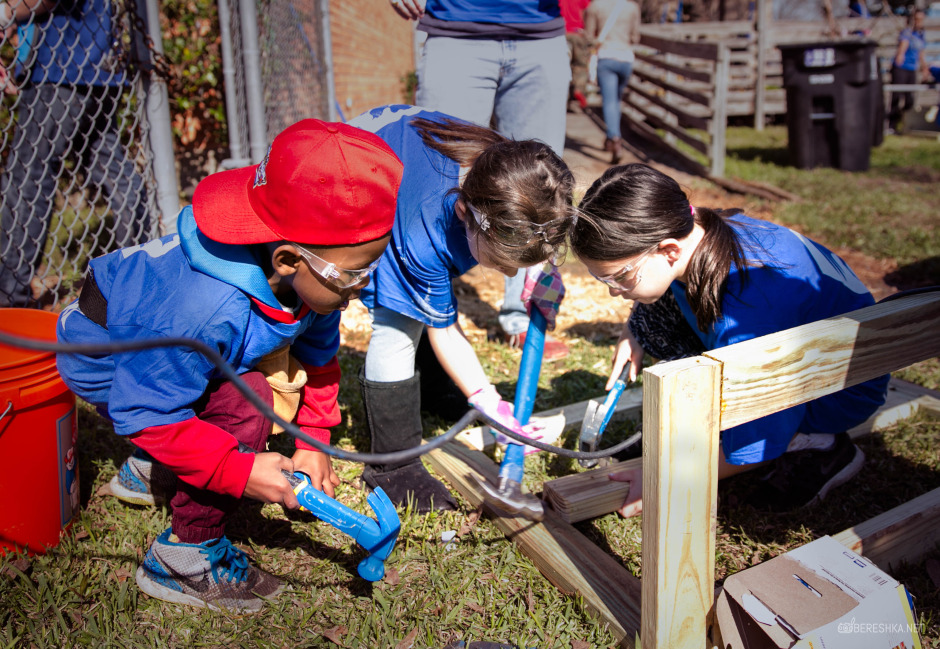 This initiative will bring together hundreds of veterans and community volunteers through real-life examples of the unity Dr. King envisioned for this country during the Civil Rights Movement. Projects range from efforts to improve graduation rates in schools, to working with immigrants and refugees seeking pathways to self-sufficiency.
"Dr. King's values are at the core of what The Mission Continues strives for every day," said Spencer Kympton, Army veteran and president of The Mission Continues. "We are humbled by the opportunity to carry on his legacy through a series of service projects that unite volunteers and community partners, working together toward a common goal, while continuing to provide a positive impact in their own communities."
Here's a snapshot of projects happening across the country that highlight each of Dr. King's core values.
Check out what's happening in a city near you!
A support system of more than 300 volunteers will work together to foster hope for the future of Atlanta's Westside community, once home to Dr. King and his family.
Platoon Leader Keasha Sharpe reflects on leading the upcoming day of service. Keasha said, "Like many other veterans I left the military missing some parts of myself." Volunteering with fellow veterans and civilians reignites that sense of purpose and pride in service for her. She continued, "I am fortunate to have been a part of all the platoons, but I can honestly say that my first official project as a Platoon Leader was the one that brought me the most joy."
For Keasha, serving on MLK Day holds special meaning in particular. "My generation was the first group of people of color to enjoy the freedoms of true liberty won by social advocates for justice."
Alongside The Missions Continues' national partner, Starbucks and local community partner, Westside Volunteer Corps, volunteers will aid in the renovation of the Bellwood Salvation Army Boys & Girls Club, painting several interior rooms, installing desks for tutoring, building an outdoor fitness area and installing a new outdoor basketball court.
Detroit's Central High School, the oldest school in the city, is a storied institution that today receives some of the lowest funding per student in the nation, and thus is one of Michigan's lowest-performing schools.
As part of an ongoing initiative with Operation Trailblazer, The Mission Continues' day of service at Central involves renovation projects including the creation of a parent resource room and a student leadership lounge.
By creating these resources, students will receive a leg up in shaping their careers and life goals, which, in turn, will help foster the future leaders of the community.
Platoon Leader and Navy Reservist James Ellsberry said, "I am most proud of the growth and the changes we have made at Central High. I am also proud to see the platoon grow, which allows for a bigger impact in our community."
As a Detroit native, James saw many of the challenges the city faces for a long time. "I did a lot of talking about taking action, but took no action. So when the opportunity came along to join The Mission Continues, I did." James explains, "I told myself I'm no longer just going to speak about change — I will become part of it."
James followed Dr. King's creed to "be the change you want to see in the world." This quote struck a chord in him. "Back before Dr. King's speech, what I'm doing now would not have been possible."
Houston is still healing from the effects of Hurricane Harvey, through the strong, selfless community that has been coming together to help rebuild.
Jose Rodriguez, platoon leader and Marine Corps veteran is excited to lead this project. Ever since Hurricane Harvey, he's been busy coordinating a flood of support (no pun intended) from people wanting to help.
Jose said, "I am proud of the fact that after hurricane Harvey, although we were all affected, platoon members reached out and asked how they could help. People actually came out and did their part for the community."
To continue in the ongoing relief effort, The Mission Continues, alongside national partner CarMax, will spend the day at Roderick Paige Elementary School in the Kashmere Gardens Community. Together, more than 200 volunteers will help refurbish the school's grounds. They will also build 3,000 Red Cross disaster kits to replenish the kits distributed during Hurricane Harvey.
Located in a food desert where nearly half its residents are under the age of 24, the day's project is part of ongoing efforts by The Mission Continues to support youth mentorship and community gardens in the Kashmere Garden Community.
In collaboration with The Partnership for LA Schools, a nonprofit organization working to transform the lowest-performing public schools in the Los Angeles area, volunteers will undertake beautification and improvement projects at Sunrise Elementary School in Boyle Heights.
This initiative creates an opportunity to increase community and parent engagement, helping to improve school structure and keep students off the streets in an area that has historically struggled with gang violence and high crime rates.
For Platoon Leader Brayden Yoder, volunteering has brought him personal growth. " If it takes a village to raise a child, then The Mission Continues family has picked me up through my platoon leader infancy and nurtured me as I've gotten my service legs under me."
The Mission Continues is undergoing a large project to support the Center of Life's after-school K-12 tutoring and enrichment program, Fusion. The program works to involve family members in their students' personal and academic achievements, as a family's love serves as one of the main drivers of success.
This initiative will allow families to become more involved through the renovation of several classrooms, focusing on student-developed themes, to help foster more love for learning.
La Familia's Maple Neighborhood Center places faith in future generations, and serves the community to ensure Sacramento's youth and families have the resources necessary to feel empowered and overcome adversity.
The platoon leader for Sacramento is Jeremiah Pauley, who served in the U.S. Army for 11 years. "For me, I've always loved Dr. King's commitment to a cause greater than himself — it is truly inspiring."
Service was a constant theme in his childhood household. "Growing up, my father taught me the importance of values. Among them was service. It was a dedication to service that led me to join the Army." After separating from the military due to an injury, Jeremiah continues to fulfill his desire to serve through The Mission Continues.
Jeremiah and other veterans from The Mission Continues will spend the day working alongside volunteers from La Familia Counseling Center to spruce up the Maple Neighborhood Center. This includes updating the playground to make it a safe place for parents to interact with their children.
The Tacoma Community House serves the families of immigrants and refugees in the South Sound community, striving to create equality and self-sufficiency among residents.
In partnership with more than 40 post-9/11 veterans and community volunteers that represent the Tacoma 1st Service Platoon, volunteers will build Lending Libraries and aid in demolition improvement work in the area.
The Mission Continues will work directly with students at Eagle Academy to beautify and improve the facilities within their school.
Facility upgrades, such as the development of murals and stenciled inspirational quotes, planter benches and shelving, will ensure students have the optimal resources needed to support their education.
For a complete list of service projects in cities across the country, see our campaign page.
Report for duty in your community with The Mission Continues. Serve with a Service Platoon at an upcoming service event near you or apply for a fellowship. You can learn more about our programs on our website and stay updated on the latest news and announcements on Facebook and Twitter.