The Mission Continues is proud to launch OPERATION NOURISH—an initiative that prioritizes veterans' mental health by mobilizing them in service of combating food insecurity.
A national survey in late April found that more than 17 percent of mothers reported that their children under the age of 12 weren't getting enough to eat because the family couldn't afford enough food —a more than 400 percent increase from when the government last measured hunger rates in 2018.
In San Antonio, Texas, 10,000 people waited for hours to receive meal boxes from a regional food bank in April. In Pittsburgh, Pennsylvania, hundreds of families have been showing up for weekly food pickups at the PPG Paints Arena. And in Sunrise, Florida, cars stretched for nearly two miles, while people waited at a Feeding South Florida food bank site.
For the first time in our history, we will mobilize our highly trained volunteer force in service of a singular issue–food insecurity.
The ability and desire to adapt and overcome is part of a veteran's DNA, and evidenced by the thousands of people waiting for hours for food boxes, the mission is urgent and clear: to combat food insecurity in under-resourced communities where we have a legacy of service.
HOW CAN YOU HELP?
Donate
Donate today and ensure veterans have the resources they need to complete their mission.
Volunteer
New Operation Nourish projects are being added everyday, find a volunteer event near you.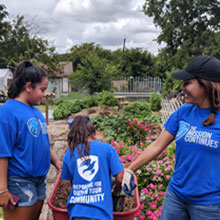 Spread the Word
Share Operation Nourish on your social media, send emails to your friends and family, and more.
If you'd like to partner with Operation Nourish, contact Kat Cheshire, Manager of Corporate Partnerships, at kcheshire@missioncontinues.org
WHY US—AND WHY NOW?
COVID-19 has irrevocably changed the world we live in. It has exposed and exacerbated the underlying fragility of our social support systems. Loneliness, social isolation, job insecurity have all seen sharp increases, which takes a huge toll on mental health, and the veteran community remains disproportionately affected by that.
But that's not all.
The communities in which we serve are being disproportionately impacted by the pandemic—most notably around issues of food insecurity. Lines of cars snaking for miles to pick up food from local pantries, food banks, schools, and otherwise have become commonplace. Since the beginning of the pandemic, rates of household food insecurity have doubled and the rates of childhood food insecurity have quadrupled. And the volunteer forces that traditionally support this work—many of whom are older Americans and at high risk for COVID-19—are depleted.
And food insecurity affects veterans as well: A study by Cambridge University conducted in 2015 found that about 27% of veterans that had served in Iraq or Afghanistan wars were food insecure and a 2018 study showed more than 1.5 million veterans live in a household that completely relies on SNAP to supplement their food intake.
By any metric, this is a crisis.
We've seen incredible support in our platoons across the country over the last few months, who have continued to meet the need in their communities—but we need even more support to continue our work. With more than 50 community partners in our existing network focused on food insecurity in under-resourced communities, we are uniquely positioned to tackle this issue head on.
As part of our three-year strategic plan, we chose to focus our advocacy work around mental health and wellness in the veteran community. This is already a topical issue, but the last few months have pushed it even more into the foreground. Continued service and peer support is a proven approach to mitigating the negative factors impacting mental health of veterans, and our work, shown in the Empowered Veteran Index, is designed to offer exactly those kinds of opportunities.
And of course, the boots-on-the-ground efforts in combating food insecurity are another way we'll support that. This work is building on work that our platoons are already doing around food insecurity, some for years already, and some who have pivoted in response to the current crisis. We plan to align our response to three pillars—distributing food, increasing food support capacity, and growing food—but as always, local platoons are encouraged to create opportunities that address the unique needs of their local communities.
Here are some examples of how platoons can take action in their community—and scroll down to see examples of how platoons have already taken action:
Veteran-driven
community food drives
Growing and Harvesting
food in gardens to deliver
Delivering Food
to community partners and populations in need
Increase Capacity
of food pantries through projects like the Mobile Market Unit
Foster Seedlings
to replant in school gardens
Build, Maintain
and renovate food pantries
Combating food insecurity in your community
Tampa, Florida,
Harvesting Produce

Jeaniel Image, the Tampa 1st Platoon Leader, led a team of volunteers to partner with two local farms to help harvest their surplus produce and redistribute to community food banks and organizations like Feeding Tampa Bay, Homeless Empowerment Project, and more. So far, they have collected over 800lbs of watermelon, 680 lbs of blueberries, 288 lbs of cucumbers and more to help feed their fellow Floridians. These veterans are providing the manpower needed to keep local supply chains up and running, safe and helping bring a little bit of normalcy back to many.

Washington, D.C.,
From Seedlings to Plants

Beginning in March, the Washington DC Platoons organized 22 volunteers to grow over 430 plants from seedlings, with the intent to donate to local organizations and partners. The platoon leader, David DuBois, posted videos on Facebook, sharing tips and tricks with platoon members, and the project overall gave volunteers a positive focus during the months of COVID-19 distancing. Eventually, the platoon donated 175 plants to the Frederick Douglas Community Center in DC which will be used to feed the seniors in that community; over 100 plants to The Springs Montessori School for a community in Springfield, VA; a woman's shelter in Manassas, VA; and to others in their local volunteer networks.

Pittsburgh, Pennsylvania,
Hot Meals for the Community

Pittsburgh 2nd Platoon has been partnering with various organizations to provide hot to-go meals for Homewood residents during this pandemic. The Platoon Leader, Derrick Clark, a native of the community, identified a need for food support and kicked off "feeding Homewood" soon after the pandemic started. Their first two events fed over 250 families each. During their last event on Memorial Day weekend, they partnered with House of Manna and provided a BBQ meal to-go for the community, including hundreds of homemade biscuits and a giant smoker lent by one of their platoon members, serving over 500 meals in four hours.

Members of the Pittsburgh 1st Platoon joined Alumni Nate Mallory and the Veteran Leadership Program to support their food distribution efforts, serving 350 people served in an hour and a half, with plans to expand the event in the coming weeks with continued support from the platoon.

Houston, Texas,
Grab and Go Meal Distribution

Houston 2nd Platoon are supporting the Grab and Go Meal Distribution in Independence Heights, a long-time partner of ours and where we focused efforts post-Harvey. This has been on an ongoing basis, and each week they have bagged and distributed over 200 meals.

Los Angeles, California,
Providing Food for the Community
Los Angeles 3rd Platoon has been working with the East Side Riders Bicycle Club (ESRBC) since our work in Operation Watts Is Worth it in 2018. During the COVID 19 pandemic, the work has shifted to provide meals to the local Watts community. To date, ESRBC has served 38,221 meals to local families whose children have been out of school since late March. In support of these efforts, the platoon and a local veterans group named Compton Veterans raised $250 in the form of grocery store gift cards and donations to provide ESRBC resources for feeding the families and homeless in the Watts community. They were then able to mobilize a team to help with food distribution over Memorial Day weekend—dedicating those efforts to those who have died in service to our country.

St. Louis, Missouri,
Drive-Through Food Distrubution
Our St. Louis Platoons teamed up with the Urban League of Metropolitan St. Louis to help out with their drive-through food distribution. They served over 3,000 families by handing out food and other essential supplies needed during the pandemic.

Orlando, Florida,
500 Families Fed
Members of the Orlando 1st Platoon endured Florida heat in protective masks, while practicing social distancing, to help pass out food to 500 families as part of a food drive at the Herald of Hope food pantry. They were first on the scene and last to leave after handing out food to families in need.

The platoons are in talks with our operational partner Second Harvest Food Bank as well as a national nonprofit, Clean the World. They are looking to get 25-30 vets to the SHFB warehouse to package approximately 500 hygiene kits that will be added to the food distribution kits SHFB has been donating weekly to address food insecurity. Our volunteers will package the kits and also participate in the distribution of the food packages.
Events Near Zip Code
Operation Nourish In The News