One Team. One Mission. #HerMission.
May 5, 2018
Meet the group of exceptional women veterans who are on the frontlines of community change. There were a total of 75 participants attending the Women Veterans Leadership Summit, and while every woman who attended is a rockstar, we wanted to share a sample cross-section of 10 participants from across the country as examples of the variety of backgrounds, experiences, and stories that are represented at our summit each year.
This is #HerMission.
Patricia Gerhauser, Navy
Pittsburgh, PA
Patti is the Pittsburgh 1st Platoon Leader and a fellow alumna who relocated from Erie to Pittsburgh so that she could be more involved with the community and The Mission Continues.
Patti now works at the Hazelwood Initiative, where she is also a fellowship host site supervisor for Mission Continues fellows. Read more about Patti.
Karen Quiles, Marine Corps
Miami, FL
Karen was born and raised in Puerto Rico and enlisted in the Marine Corps shortly after 9/11. In the wake of Hurricane Maria, Karen played a pivotal role in the launch of the newly formed Puerto Rico 1st Service Platoon.
Karen is a longtime participant in The Mission Continues programs and events, and spearheaded numerous disaster relief efforts for Puerto Rico and Southern Florida. Karen is extremely driven by community service and sees The Mission Continues as an opportunity to connect with other veterans and effect positive change. Read more about Karen.
Kristle Helmuth, Army
Jacksonville, FL
Kristle is a fellow, platoon leader in Jacksonville, FL and has attended the Service Platoon Leadership Summit. She was the first member of the Jacksonville 1st Service Platoon. "I've learned so much from this experience. I've learned how to empower others, how to empower myself, and how to surround myself with those who empower me," said Kristle.
Kristle is still volunteering and showing up for her platoon (check out the video!). Up until the passing of her husband Nate, the two shared the platoon leader role in Jacksonville. Kristle also demonstrated incredible leadership by stepping up during Hurricane Irma relief efforts in Jacksonville with her platoon.
Kristle is the COO of Hero Missions, a nonprofit organization that is helping children navigate the effects of war through therapeutic programming, events, peer support, and resources. Her work in the community is what is keeping her grounded, and helping her carry on her husband's legacy.
Francheska Salazar, Navy
Washington DC
Francheska recently completed an impactful fellowship with the Student Veterans of America headquarters office in Washington, DC. As a direct result of her initiative and impressive work as a Mission Continues Fellow, Francheska was selected as the first community college student as a Veterans of Foreign Wars & Student Veterans of America Legislative Fellow. She has also recently earned the role of Platoon Leader for the Washington D.C. 4th Service Platoon.
Francheska published a ProFellow article describing how her Mission Continues Fellowship was the key to a successful transition from a sailor to a civilian. Read more about Francheska.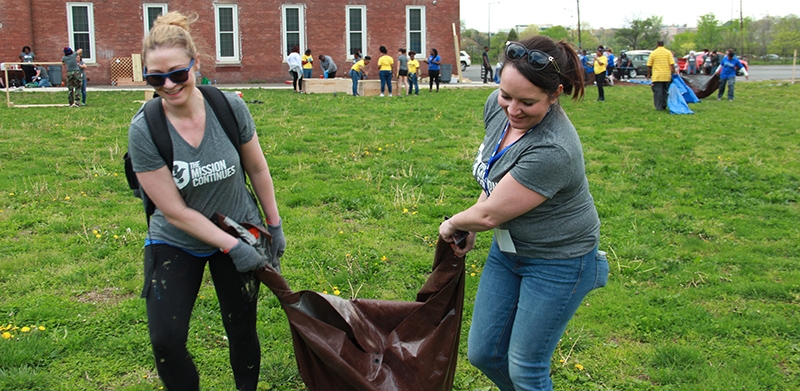 Sandylane Oquendo, Army
Houston, TX
During her military service, Sandy completed three combat tours in Iraq. Sandy is a MST survivor, and has channeled her energy in helping others.
Sandy is a member of the Houston 3rd Service Platoon and attended the Platoon Leadership Summit in 2017. She currently works as the housing counselor for the 5th Ward Community Redevelopment Corporation, located in one of the most poverty-stricken areas in Houston. Through her work she helps community members, (some of whom have been affected by Hurricane Harvey), become homeowners.
She is the newly elected Chair of the Women Veteran Empowerment Expo Committee, and is a committee member of the annual June 12th Women Veterans Day in Texas and Lemonade Day Houston. She used to volunteer for Houston Dress for Success, and is now on the cusp of completing her MBA with emphasis in management & leadership from Texas A&M University-Central Texas.
Corena Mitchell, Army
Dallas/ Ft Worth, TX
After 16 years in the Army, Corena felt unprepared for life in the civilian world. She met Brandy Baxter (a 2014 fellow alumnus) and was encouraged to apply for a fellowship. She's currently a fellow and platoon member, and recently started a new position as Brandy's successor at Attitudes and Attire as the program director of Boots to Heels.
Corena said, "Seeing the differences in these women after they complete our 2-day workshop is one of the best feelings I have experienced."
She has also expressed that serving with The Mission Continues has not only changed her life, but the lives of those in her entire family, as they attend service projects alongside her. "Feeling the unity really helped me get out of the house," said Corena.
The opportunity to serve as a fellow at Equest Dallas has helped her navigate the challenges of depression. "The Mission Continues is aware of the struggles that women veterans face, and they open up doors. They give you an equal opportunity to share your experience and the leader that you are."
She is also a committee organizer for the Dallas annual June 12th Women Veterans Day in Texas.
Andrea Strong, Army
San Antonio, TX
Andrea found The Mission Continues while navigating a divorce and raising a young child. Additionally, she was a recent graduate facing homelessness. She was referred to an alumni from The Mission Continues who was able to identify an opportunity to utilize her experience and education in her field to regain a sense of purpose.
As a fellow with The Mission Continues Andrea was able to serve at Endeavors, a nonprofit assisting homeless veterans and their families obtain secure housing. She is now a full-time employee at Endeavors.
Alicia Todd, Army National Guard
Seattle, WA
Alicia served 13 years with the Washington Army National Guard. Alicia serves with Seattle 2nd Service Platoon as the platoon leader, but also serves with Seattle 1st and Tacoma 1st. She's driven to inspire the youth in her community to become more involved in community service. She is also a member of the Minority Veterans of America
Fun fact: Alicia's love of The Mission Continues runs so deep she even got a The Mission Continues tattoo!
Melissa Ritz, Air Force
Los Angeles, CA
Melissa first served in the Air Force as a medical laboratory technician for seven years. She then served for a year as a vocalist with the Armed Forces Entertainment's touring performance group, Tops in Blue.
She was accepted into the Veteran Writing and Performance Project at the Geffen Playhouse, where she performed a monologue about a female medic's experience caring for first responder casualties at Landsthul Medical Center in Germany.
The Mission Continues Fellowship Program appealed to her as an opportunity to get involved in her community and be part of something greater than herself. She served at the Writers Guild Foundation, where she supported their Veteran Writing Program. Though this fellowship, Melissa continued her mission to share stories of 9/11-era women veterans.
She also joins us for the Women Veterans Leadership Summit. Melissa said, "I love that a bunch of female veterans are going to DC for a leadership summit. Now more than ever it's important to have strong leadership."
"I'm looking forward to this experience, being honest about where we're at, where we want to be and to use this time to connect with other people. I'm looking forward to being around a lot strong women."
Aline Williams, Air Force
Chicago, IL
Aline is a newcomer to The Mission Continues, as this is her first event with us, and we're so excited to welcome her to the Mission Continues family. Aline is a big believer in business sustainability. With more than 30 years of entrepreneurship, corporate and non-profit experience respectively, she is a seven-year veteran of the United States Air Force and the Illinois Air National Guard.
Aline works for the Department of Army Office of the Assistant Secretary Manpower and Reserve Affairs and received an appointment by the State of Illinois to the Department of Veterans Affairs Advisory Council. She is also the President and Chairman of the Board for Chiayah Eighteen Enterprises.
She brings a wealth of knowledge around veteran affairs and leadership to our summit, along with experience as a motivational speaker. One of her beliefs is that every opportunity is a moment either to teach or to learn. Her personal motto is, "don't think outside the box…know that there is no box and get creative!"
Report for duty in your community with The Mission Continues. Serve with a Service Platoon at an upcoming service event near you or apply for a fellowship. You can learn more about our programs on our website and stay updated on the latest news and announcements on Facebook and Twitter.