The Start of Long Term Recovery in Houston
October 20, 2017
While shoppers all over the country rushed to grab Friday the 13th sales, 90 veterans from all over the country rushed to grab rakes, power tools, and paint brushes to help restore Houston neighborhoods after the damage Hurricane Harvey dealt.
Immediately following the devastation brought by Hurricane Harvey, volunteers with The Mission Continues responded with neighbor-helping-neighbor efforts and rallied together to execute an inspiring 9/11 Day of Service project shortly thereafter.
In the time since then, we have committed to help Houston communities with long-term recovery efforts. Rebuilding in Houston is a mission that will take years to accomplish, but with a little help from Delta Class of 2017, it was off to a great start.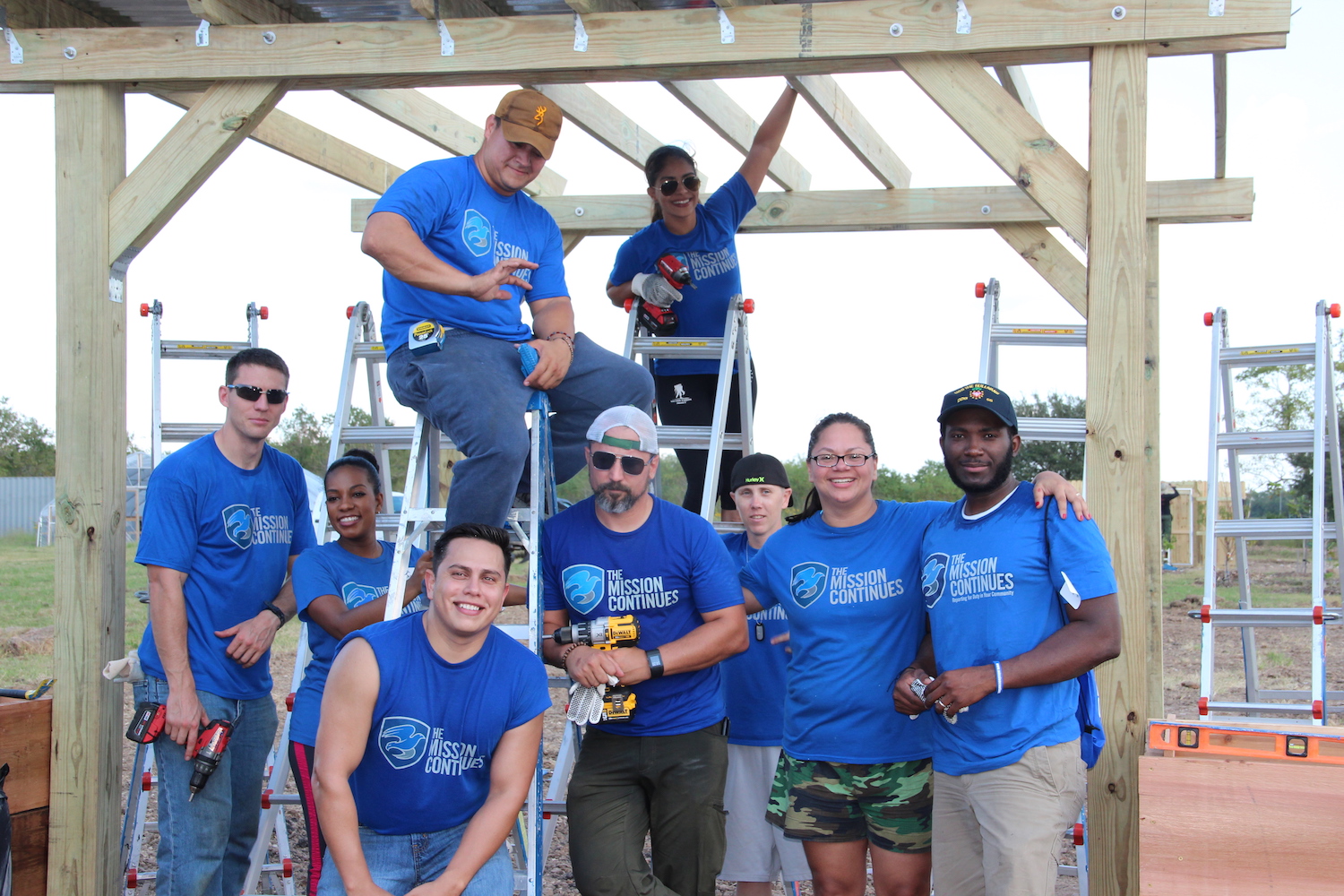 Delta Orientation–a weekend full of introductions and preparation for the Fellowship and Platoon Leader Program–welcomed 77 new fellows and 13 platoon leaders.
These 90 new members of The Mission Continues family rolled up their sleeves to build and beautify in the neighborhoods of Independence Heights and Sunnyside–both underserved areas hit by Hurricane Harvey.
The service projects this incoming cohort completed were planned and executed alongside our partners Hope Farms (in Sunnyside) and the Independence Heights Redevelopment Council, who are already working with the Houston 4th and 2nd platoons.
These projects fit in with a much larger plan to work with local government and organizations to revitalize and rebuild these areas for the benefit of current residents.
The weekend's project consisted of four parts. In Independence Heights we revived the historic welcome center with landscaping, garden beds, and outdoor seating. For their church/community center we built a mural wall, outdoor chalkboard, shaded seating, and a free little library.
Then, in McCullough Park we created a walking path around park, repainted lines on basketball court, and painted murals along its concrete border.
In Sunnyside we went to Hope Farms to build two large shade structures, garden beds, and a chicken coop. We also planted fruit trees and organized the compost area.
The weekend was an empowering introduction to renewed service, Mission Continues style. Evarist Odinikaeze, a new fellow who will be serving at All Dorchester Sports & Leadership in Boston, MA, shared why he was one of many who took to The Mission Continues.
"As a veteran, I took an oath to serve America. I do that happily, without compromise. So having an opportunity to—with The Mission Continues—to serve all over again, without wearing the uniform, I mean, it's such an honor to be here, and now I can't wait to start on Monday, to get this fellowship rolling," he said.
Evarist explained that he will be serving as a tutor and mentor in addition to "helping the organization maximize impact, do program evaluation, and set up systems that will have a mandatory impact or perspective moving forward after I leave."
By now, our 77 Delta 2017 fellows have finished their first week of volunteering at their individual host sites — nonprofits or government agencies in their communities. Like Everist, each fellow is working toward making an impact in their community.
By embedding in nonprofits for six months, these veterans are investing in their personal and professional growth while helping underserved communities realize their full potential.
Let the journey begin!
Report for duty in your community with The Mission Continues. Serve with a Service Platoon at an upcoming service event near you or apply for a fellowship. You can learn more about our programs on our website and stay updated on the latest news and announcements on Facebook and Twitter.