Women Reflect on Leading with #HerMission
March 28, 2018
"I raise up my voice – not so I can shout, but so those without a voice can be heard…we cannot succeed when half of us are held back." -Malala Yousafzai
Across the country, our women veterans have been raising their voices through service on behalf of children, families, and neighborhoods in need. They've helped youth to learn about healthy eating, caregivers to open pathways to economic success, and communities to rally around safe and uplifting public spaces.
The #HerMission campaign is our effort to not only recognize those successes and the incredible women who fuel The Mission Continues, but also to unify and catalyze a diverse group of women veterans who will shape our future.
It began last year in Pittsburgh, where the Hazelwood Platoon created the very first #HerMission project, with over 50 women veterans, family members, staff, and residents of the Hazelwood community helped renovate the library at Center of Life community empowerment organization.
This past weekend, nearly 150 women in Boston, Lowell, Pittsburgh, New York City, Newark, and central Florida came together to collectively raise their voices, and their call to act will reverberate for generations.
Their collective impact was worth over $20,000 dollars of labor. Here are reflections from a few volunteers on what the experience meant to them.
Plant City, Florida

Miami, Broward, Orlando and Tampa Service Platoons joined forces for a #HerMission build with Habitat for Humanity in Plant City. Accomplishments include:
Construction on 3 Habitat for Humanity homes
Packaged 144 care packages that were delivered to homeless in Tampa
Laid 4400 sq ft of sod
Planted 50 plants and 2 live oak trees
Paint touch-ups, molding, caulking
#HerMission Reflections
Yaritza Perez, Platoon Leader
"How amazing it was to see from a leadership perspective; watching all the connections. And more specifically, from this awesomely diverse group of women.
It was empowering. It was what we as women crave sometimes. That sisterhood.
I can look back and say I was a part of that. It's such a privilege, and I can't wait to see how this takes off. This weekend was like no other and I am glad I was able to have some of my favorite people there for some much-needed girl time doing service."
Jacquelyn McMillan, Project Volunteer
"I have had the pleasure of meeting amazing women from various platoons here in Orlando, Florida. Joyce, former Marine from Broward Platoon, took the time to introduce me to other HerMission participants.
I am in awe of their energy, spirit, and compassion. I am encouraged to contribute in any way possible, and I wanted to start with letting your phenomenal organizers know that I have been moved and will do all that I can to spread the word so others may be aware as well."
Lorena Gonzalez, Project Leader
"We come from all walks of life, yet we share a bond no bloodline can break. We are sisters by choice and the force that holds us down is beyond anyone's imagination. There is a Wonder Woman in every women veteran."
Harlem, New York

The Mission Continues volunteers returned to Harlem Grown to help inspire youth to lead healthy and ambitious lives. Accomplishments include:
Built 6 raised planter beds
#HerMission Reflections
Nyree Shelp, Project Leader
"What I enjoyed most about the project was the camaraderie! I liked that everyone who was a veteran kind of instantly gravitated with one another and made connections. I also enjoyed seeing so many civilians taking initiative to come out and support the project.
I think a project focused on women veterans is important because we are a population that is often underserved and under-recognized. I think that women veterans need to feel inspired and empowered.
The Mission Continues allows women ample opportunities to take on leadership roles. This is something that I have valued as a member of The Mission Continues because although I may not always feel as confident or ready to take on large responsibility; in the end, I always feel well supported knowing that I have other members to back me up.
I think women veterans have unique experiences to bring to the community. We come with our own unique qualities and traits, and a variety of leadership and mentorship capabilities. We are often times hard chargers, compassionate and caring individuals."
Jackie Knight, Project Leader
"I really enjoyed the acknowledgment of Women's History Month and the emphasis on spotlighting female veterans. While women are always fully included and embraced in the projects I've been a part of, I think it was really important for everyone involved to be reminded of the unique service and sacrifice of female veterans during an event meant to highlight them.
I think women veterans can appear to be forgotten or made to feel invisible on both the broader national stage and within veteran programs, as well as media narratives seemingly focusing more on males. I think a project focusing on empowering women veterans is so important in order to call attention to their important role within the veteran community and in our broader communities and neighborhoods.
I think women veterans have had to push through a lot of barriers (physical, social, and societal) in order to get where they are. They've likely faced many detractors and doubters who didn't believe they'd be able to accomplish all that they have. Resilience and perseverance, as well as skills they've learned from their service, provide female veterans with a unique perspective that lends itself to more thorough and in-depth problem solving and a more comprehensive and intersectional leadership role."
Pittsburgh, Pennsylvania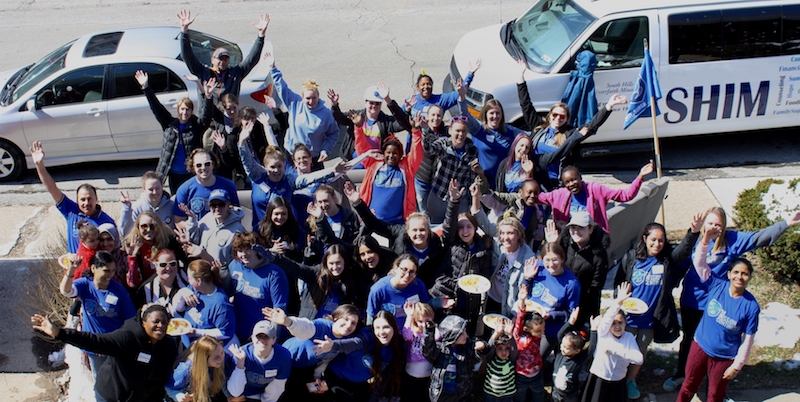 The Pittsburgh 3rd Service Platoon, dedicated to South Hills, went to the Greater Pittsburgh Literacy Council's Whitehall Place location to upgrade educational space. Accomplishments include:
3 bookshelves made
1 tree mural painted
2 play kitchens built
Wood for 15 garden beds cut and organized
2 classrooms cleaned out and moved to new space
3 doors painted
2 sensory boards made
Curtains made for 2 classrooms
#HerMission Reflections
Blair Mickles, Platoon Leadership Team Member
"Last year I attended the HerMission project here in Pittsburgh and it was the first time I attended something with The Mission Continues. Since then, I have continued to serve both with the Pittsburgh service platoons and as a Mission Continues fellow, mentoring refugee youth with South Hills Interfaith Movement; one of the organizations we are supporting today.
After 11 years of military service, it feels so good to be able to come home to Pittsburgh and serve the community where I grew up."
Report for duty in your community with The Mission Continues. Serve with a Service Platoon at an upcoming service event near you or apply for a fellowship. You can learn more about our programs on our website and stay updated on the latest news and announcements on Facebook and Twitter.