A New Take on Veterans Day
November 16, 2016
Veterans Day weekend was a welcomed long weekend for many, but for veterans at The Mission Continues, it was an opportunity to serve with greater impact. Veterans Day is typically a holiday to reflect and honor those who have selflessly given their service. As we look forward, we recognize it's also an opportunity to engage with our youth and this nation's future generations in their potential for service.
In cities across the country, we gathered together to do service projects large and small, with other veterans, partner organizations, and civilians. Many of our projects were designed to help youth and create lasting change, as we never lose sight of our vision to inspire future generations to serve.
With over 40 cities reporting for duty, we can't share every bit of awesomeness with you, but here's a sampling of the kick ass projects our platoons accomplished to help today's youth.
Washington D.C.
The DC Platoons were back in Congress Park to continue the great work we've been doing in that neighborhood for over a year. Congress Park was recently the recipient of a KaBOOM! playground grant – many of our volunteers were part of the playground build – and we were able to return to the playspace to complete improvements, including the addition of flowers to their garden spaces and refurbishing existing picnic tables.
Across the street at the Malcolm X Opportunity Center, volunteers installed fitness equipment for adults in the area to enjoy. They also cleared a [literal] ton of junk from the Center's disused cafeteria – a room that will soon become a meeting space for both a bartending school and an EMT class, providing job opportunities for local residents. Additionally, volunteers applied a fresh coat of paint to the Center's bleachers and planters, covered up graffiti and repainted lines in the parking lot.
These aesthetic improvements are just one step in a long-term effort to increase community pride in the space. By bringing veterans and community partners together, the platoon works with the residents of Congress Park to improve the community through positive involvement and service.
Houston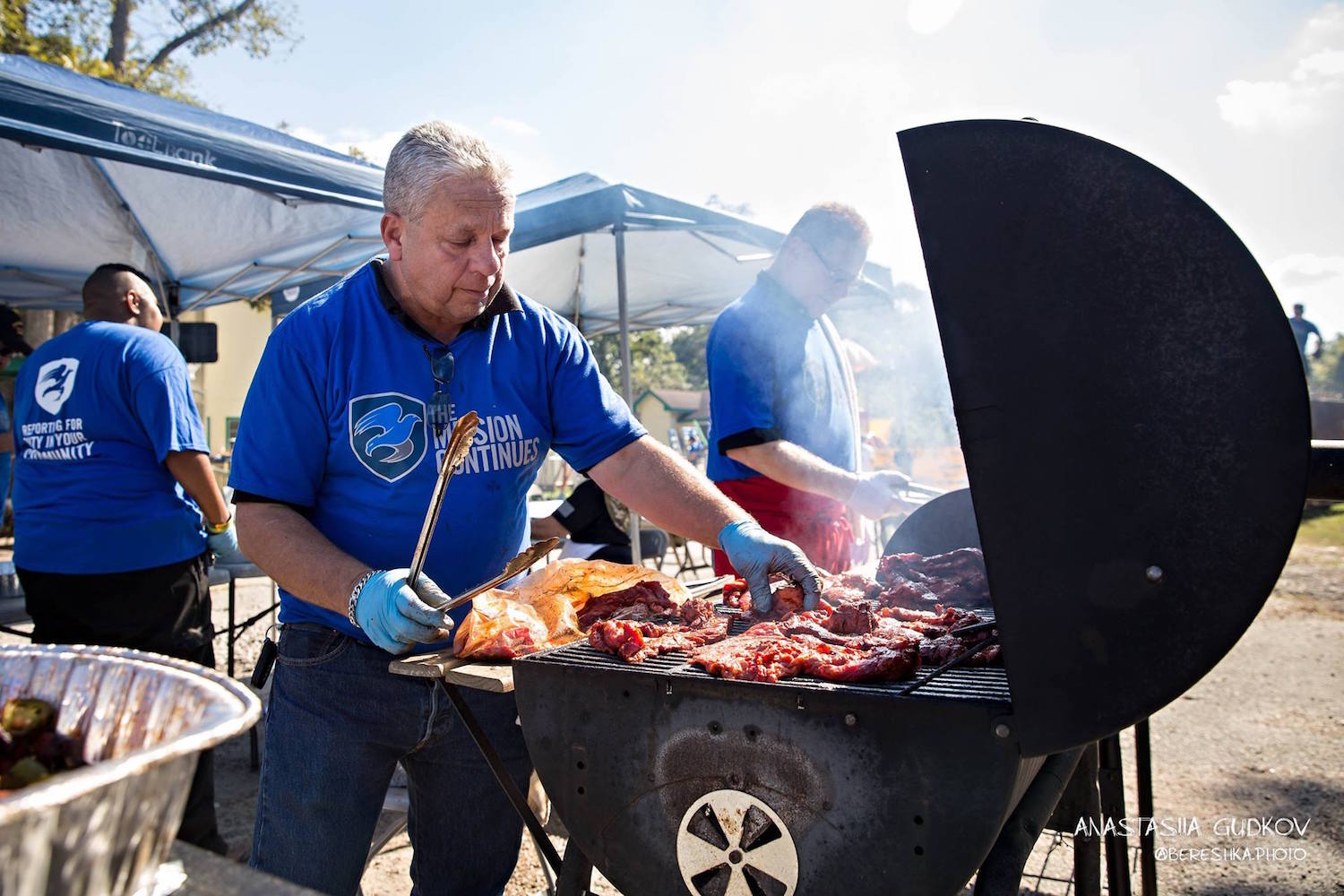 In Houston, L&S Small World Academy is one of the few early childhood education centers serving Independence Heights. Approximately 150 volunteers helped build a community garden onsite that will help the kids learn about nature and urban agriculture. The garden will be open to the larger community on specified days providing fresh produce to increase healthy living in this underserved community.
We installed an outdoor classroom, library, compost area, tool shed, natural playground, signage and more. We also completed much-needed beautification tasks such as filling potholes, clearing brush and debris, and painting the entire interior of the building.
Los Angeles
Volunteers revitalized and beautified Lafayette Park, Platoon Leader Benjamin Robles describes as "a heavily used public space in a high-need area." Benjamin explains, "The park is also used by three after school programs, and so we felt that it would be an ideal space for a high impact service project."
Volunteers added trees to create shade, repainted park benches, added mulch to cover large dirt patches, and replaced rotting wood around the park. The event was an example of the impact that can occur when the platoon, municipal government, and volunteers come together to focus their efforts on supporting community spaces.
New York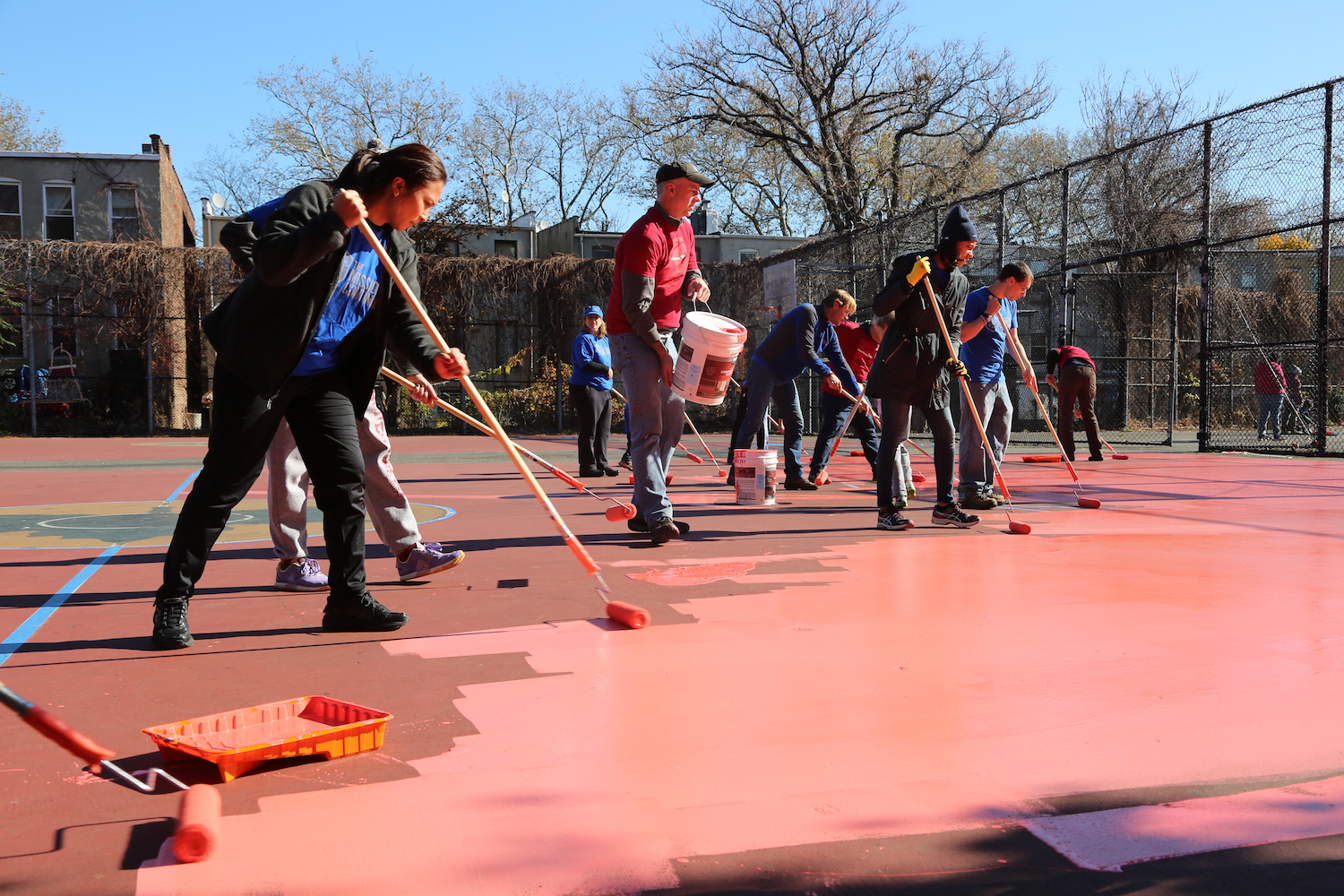 The service project in New York centered around Brownsville, a neighborhood in Brooklyn. We went to a playground behind PS 275, which has been an instrumental community hub since 1988. Due to decreasing investments in city parks, Osborn Playground will not be receiving funding from NYC Parks to help the playground remain a safe place for local children and residents to play and remain active.
On this day of service, veterans and supporters refurbished the park's iron fencing and two playground sets, refreshed the paint on the basketball courts and shower basin, painted a new softball field, blacktop games and mural on the playground's comfort station and removed invasive plant species so we could plant 350 daffodils.
Through this service project, we showed the community that veterans want to make a difference in Brownsville and leave a legacy of action and service.
Atlanta
The Atlanta platoons completed the construction, painting and installation of outdoor benches for the Bellwood Boys and Girls Club Baseball Field. This is part of our continuous effort to help provide resources for youth in the community because that they count on every day.
On Veterans Day, the platoons finished the spectator benches, grounded the benches with cement, and painted them. They also updated the library room!
Detroit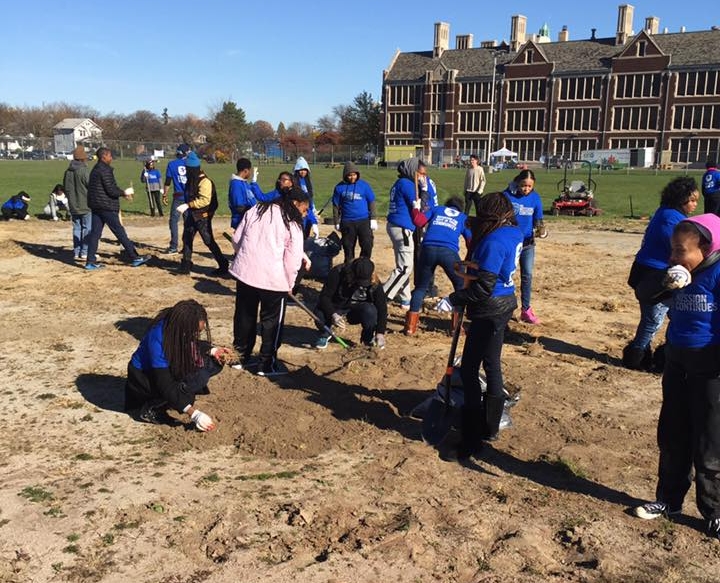 Detroit 1st and 2nd Platoons joined forces with Focus: HOPE and the neighborhood surrounding Central High School, part of Hope Village, (and one of our project sites for our inaugural Mass Deployment), to complete volunteer projects to enhance school culture, increase safety, and create pride in the community.
Volunteers helped with several family-friendly projects around the school, which were a continuation of the work we started during Mass Deployment. These follow-up tasks included painting, staining benches and picnic tables, securing fencing, sorting and recycling used books, and much more.
After the project, volunteers gathered for a Thanksgiving Dinner and social, with a resource fair and activities for children.
Veterans Day Recap
We love the parades and festivities that celebrate veterans, but we cannot stop there. The next step in appreciating veterans after saying "Thank you for your service" is to ask, "What will you do next?" For us, the answer to that is "serve again, where my country needs me most."
While our many Veterans Day projects spanned the spectrum, all of the projects we highlighted today focused on the next generation of youth, impressionable minds who must see that veterans are active and productive members of society, and that they've got our back. So many young students grow up lacking the resources they need to succeed, so many youth with talent unnurtured. It is up to us, as veterans, to help give them the tools to success that every child should have, and to inspire them to make a change as we do.
Report for duty in your community with The Mission Continues. Serve with a Service Platoon at an upcoming service event near you or apply for a fellowship. You can learn more about our programs on our website and stay updated on the latest news and announcements on Facebook and twitter.