Introducing David Diaz, Vice President of Regional Operations
April 13, 2018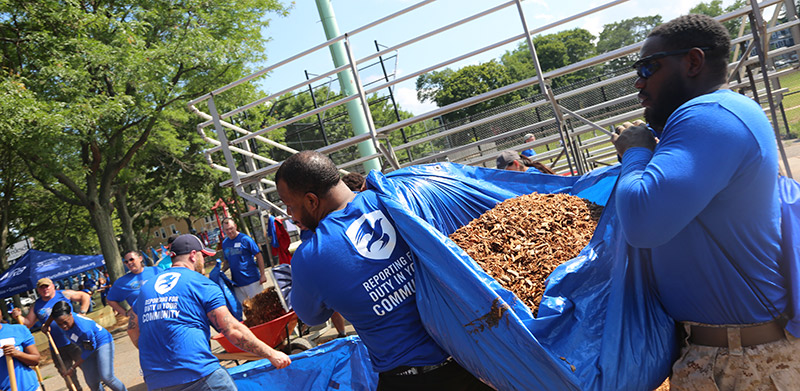 We recently welcomed veteran David Diaz to The Mission Continues as our Vice President of Regional Operations. Here's a sneak preview of the impact David plans to bring to the team.
How do you plan to support the mission as its new VP of Regional Operations?
I plan to support the mission of The Mission Continues by synchronizing our program execution for maximum impact. I see my role as a conductor of an internally-acclaimed orchestra. I have the honor of leading a talented team of dedicated professionals and volunteers who possess a diverse array of skills and abilities. l look forward to synchronizing the program execution of our five individual regions into a harmonious delivery system.
Why are you excited to be at The Mission Continues?
I am super excited because our team is at the forefront in innovating and ideating on solutions that promise to transform the lives of our veterans and our communities across the country. The Mission Continues is poised to develop a comprehensive and unified approach to an outcome-based delivery system for veterans.
How do your experience and interests enhance and weave into your new role?
My passion for revitalizing cities and my experiences as a city planner help me to understand how to elevate our community impact on our host cities. I am working closely with our research and evaluation team to take our community impact to a new level. My experiences as an Army captain will help me explore opportunities for aligning our operations with every function in our organization. Our operations are at their best when we are collaborating with our wonderful partners and funders.
How are the regions going to rock it this year?
The regions are going to rock it this year through the launch of a new Summer Service Slam campaign across the country. This is the first time that each region will simultaneously launch dozens of service projects during the month of July. We also plan to establish our presence in new cities across the country later this year.
Stay tuned for more about Summer Service Slam and how you can take part!
Report for duty in your community with The Mission Continues. Serve with a Service Platoon at an upcoming service event near you or apply for a fellowship. You can learn more about our programs on our website and stay updated on the latest news and announcements on Facebook and Twitter.