Hometown Huddle: A Detroit Veteran's Day and MLK Day Collaboration
By Emily Ferstle, City Impact Manager
On Veterans Day, The Mission Continues Detroit Platoons were joined by The Detroit Lions, United Way for Southeastern Michigan, Comerica Bank, and Caniff Electric Supply Co. for a day of impact at the Boys & Girls Club of Southeastern Michigan.
Veterans, civilians, community members, and corporate partner employees joined forces to make an impact in the lives of Detroit youth. The Lloyd H. Diehl clubhouse serves 60-100 children and teens daily, and is in continuous need of support to create and maintain a safe, welcoming environment for the youth to gather, learn, and play.
Check out the impact we made for Veterans Day and join us for more during our MLK Day of Service at the clubhouse for Blue Door Blitz!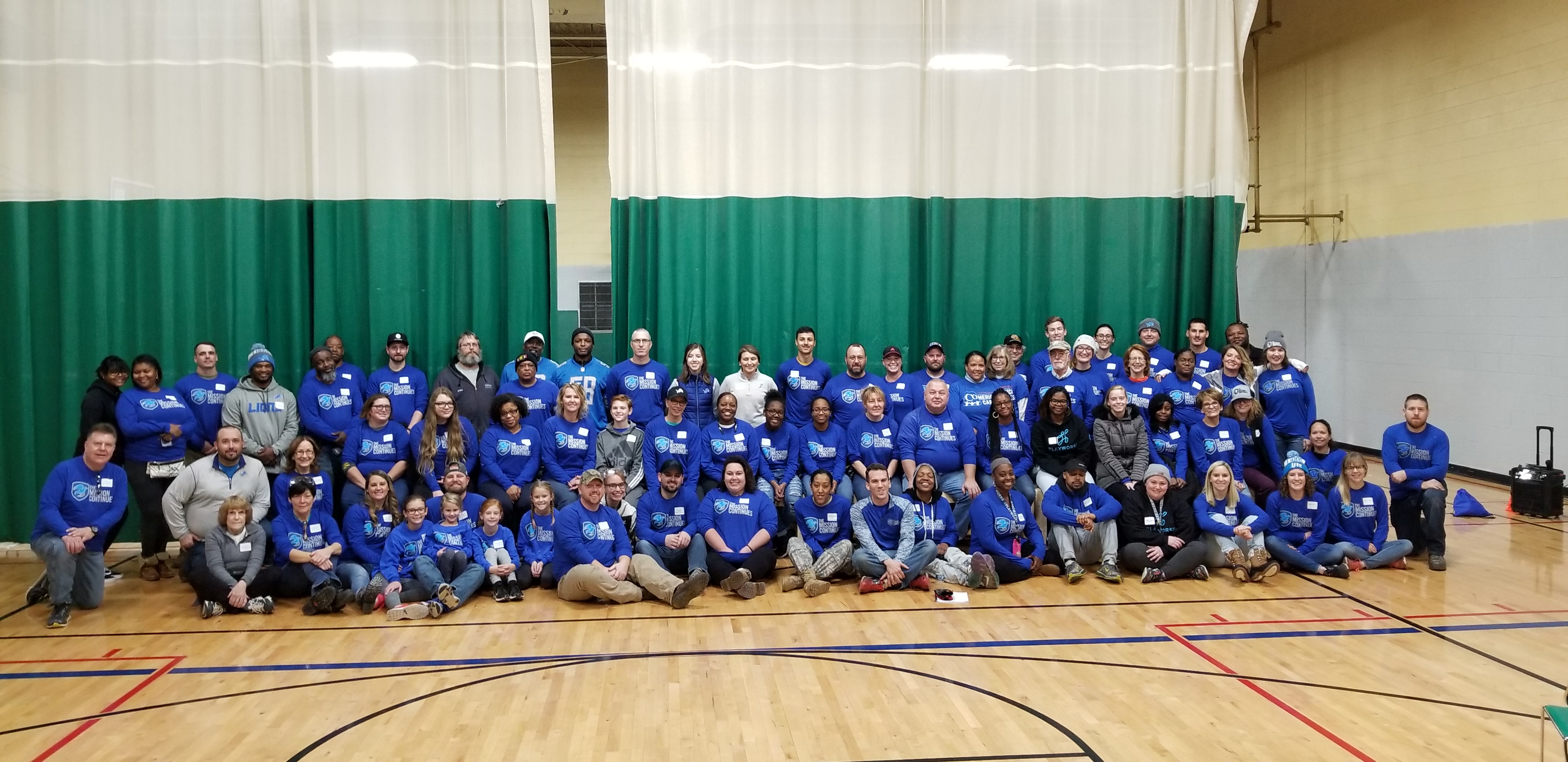 Veterans embody the definition of selflessness," said Detroit Lions Senior Director of Community Relations Jen McCollum. "It's important that organizations support them in their efforts, especially when that includes continuing their service in their local communities after their active military duties. It's been an honor to work with The Mission Continues on our Detroit Lions Hometown Huddle initiative over the years.

Jen McCollum, Detroit Lions
For Hometown Huddle, volunteers completed a number of projects to revive the clubhouse and encourage creativity and learning. Volunteer team accomplishments include:
Completing the construction of a reading loft;
Construction of a stage;
Painting the gymnasium;
Construction of two book cases;
Installation and cleaning of logo carpet squares;
Building shelving and reorganizing storage room
Assembling new trophy cases;
Construction and installation of a new barn door over concession window;
Coat Room Makeover, including demolition of old coat racks and construction of new coat cube units
and coat hooks;
Scrub the Club, and cleaning out the attic, filling the equivalent of a 30-yard dumpster with broken furniture and equipment!
I continue to serve with The Mission Continues because I want the next generation of youth from Detroit to have every advantage possible.

Xander Breg, Detroit 1st Platoon Leader

Impact by the Numbers
This service event engaged veterans, active duty military, community members, corporate partner employees, families, youth, and national service volunteers in five hours of service, off-setting nearly $12K estimated value of time invested for the Boys & Girls Club of Southeast Michigan according to the Independent Sector (Average volunteer hour valued at $24.69/hr).
98 total volunteers
54 corporate and community volunteers
17 veteran and military volunteers
27 youth volunteers
490 community service hours
$11,828.60 value of volunteer time invested
As a result of the investment of Hometown Huddle, the youth served by the Boys & Girls Club now have access to a safer, more inviting space to play, learn, and grow.
Our ability to create an impact depends on the financial support of our sponsors. Thank you to our platoon sponsors who made this event possible, Caniff Electric Supply Co. and Comerica Bank.
Thank you to Hometown Huddle sponsors, Detroit Lions, United Way for Southeastern Michigan, and Caniff Electric Supply Co. and Comerica Bank. 
Group leadership of the event and the individual teams was a great example of effective veteran leadership in action. The teams all had the right information to get the tasks complete…[Hometown Huddle was] a great avenue for companies to give back to the communities where they live and work. A great team building event for our company.

David Tworek, Marketing Manager, Caniff Electric Supply Co.
Comerica Bank has an employee veteran leadership group that works to support veterans in our community. Many members of that group are veterans or have family members who are veterans and enjoyed working side by side with other veterans to support our nation's youth. It was an honor to be a part of an event making a significant impact in the lives of others; our youth and our veterans.

Patricia A. McCann | Vice President, Diversity & Inclusion, National
Employee Volunteer Program Manager
DETROIT PLATOONS SUPPORT YOUTH IN DETROIT CITY
DISTRICT 7 THROUGH LONG-TERM PARTNERSHIPS IN
EDUCATION, PARKS & RECREATION, AND YOUTH
DEVELOPMENT. FIND OUT MORE AT MISSIONCONTINUES.ORG