In Seattle, A New Platoon with a Mission
December 9, 2016
The Seattle 2nd Platoon is one of The Mission Continues' newest platoons. The Platoon and its Platoon Leader Matt Moroge, reported for its first service project in Marysville, WA at the Quil Ceda Tulalip Elementary School recently during our Veterans Day service campaign. The school's student body is 95% Native American, so it was only fitting that this project tipped its hat towards the strong Native American culture that makes up the Pacific Northwest.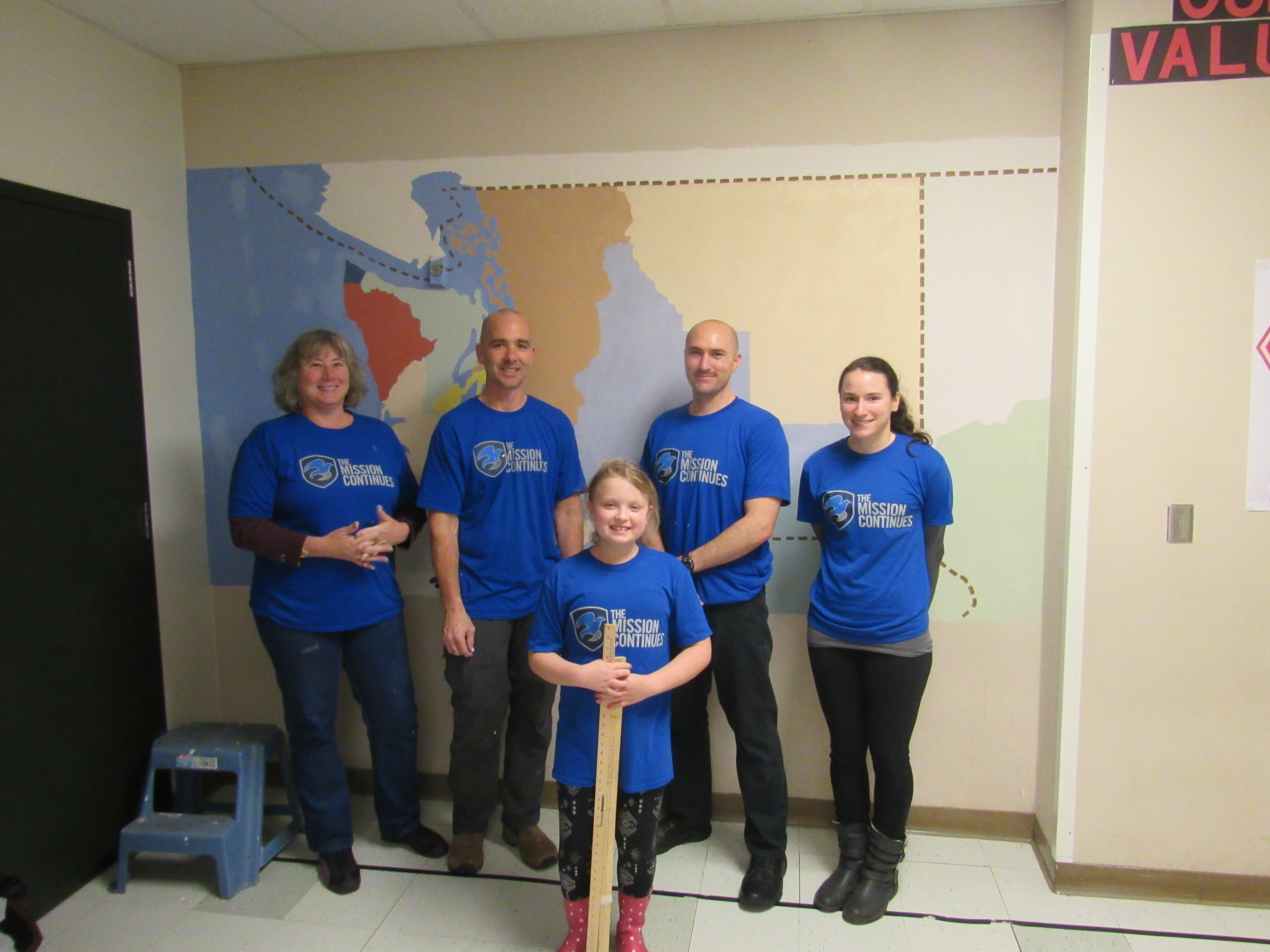 The day was made up of two particular projects; one was outdoors where half of the platoon made short work of a beautiful planter bench (in the rain no less), and the second consisted of a gorgeous mural depicting the Native American Treaties of Washington State. Although common core is taught at the school, there is very little taught to the students about culture, so the tribal liaisons were particularly impressed with how we ensured that respect and honor were shown towards the students' culture.
All in all, it was amazing day with an awesome turnout for a platoon that was three weeks old!
Doug Pfeffer, City Impact Manager, said, "The Platoon's second day-long service project will be in January at Ebey's Landing. We'll cut back an overgrown path to a scenic overlook, build a new bench, and replace a sign that's no longer legible. It's a small but significant step toward solving the problems facing national parks in Washington."
We also asked the Platoon Leader, Matthew Moroge what he thought about this platoon. He said, "Seattle 2nd service platoon is the new kid on the block for the north Seattle side.  We want to do two things; give veterans that feeling of purpose and unity while serving something bigger than an individual, and to have a positive impact on the local community, all with purpose driven, hard working veterans."
Matthew explained, "For me, the greatest joy in life is helping others. The Mission Continues allows me to fulfill that and indulge in my own personal joy every time we support the community."
The Platoon's efforts are part of a larger, long-term commitment to this area. Shane Freund, a member of this platoon, has also applied to be a Fellow of Alpha Class 2017. This means that beyond his involvement in the platoon's service projects as the Veteran Resource Coordinator, Shane would be volunteering for 20 hours per week at the school. He said, "I love kids, so working in a school environment where I can be there to support kids who need help is a beautiful thing."
Shane said he's passionate about his platoon because of its members. Having worked with members like Matthew, he said, "It's truly amazing to work with someone who cares so much about others."
The Seattle 2nd Platoon has some great people working to help the Tulalip School District. Congrats to this platoon for getting off the ground and running, its efforts thus far are already making a difference. Help keep this new platoon's momentum going by attending an event or becoming a platoon member!
You can sign up for a service event here. Newcomers, families and non-veterans are welcome, as always.
Feel inspired by what you just read? Report for duty in your community with The Mission Continues. Serve with a Service Platoon at an upcoming service event near you or apply for a fellowship. You can learn more about our programs on our website and stay updated on the latest news and announcements on Facebook and twitter.