Retreating to Advance
March 25, 2015
Twice a year, the entire team at The Mission Continues assembles at our head-quarters in St. Louis for a three-day retreat. We pause our operations to reflect on our mission, our vision and our strategy – and of course to have a little bit of fun. The team gathered earlier this month, and we decided to do a short Q&A with two team members to get their perspective on the power of these retreats. You'll hear from Aaron Scheinberg, our Executive Director in New York City, and Alex Klein, who works on our development and operations team in St. Louis.
From your perspectives, with Aaron as a team member who has been here for more than three years, and Alex who started a little more than three months ago, how did the retreat further strengthen your understanding of our mission? 
Aaron S: In order to focus your energy on your everyday work and prioritize the hundreds of things you could do in a given week, you have to be grounded in the "Why."
"Why does The Mission Continues exist?"
"Why do I work here?"
During each retreat, we come back to these central questions. Not because we forget about them or need to change the answer each year, but rather by discussing them as a team we gain greater clarity on our individual roles. This year, we spent a lot of time discussing our roles in helping veterans reintegrate into nonmilitary life through continued service at home. With two national programs, the Fellowships and Service Platoons, we needed to align on why each of them exist and how they complement each other.  I came away from the discussions with a renewed sense of focus and determination to empower veterans in our region.
Alex K: The discussions we had around our organization allowed each team member to voice their interpretations of our mission and vision. The fact that new team members were given equal time and access to discuss and unpack our understanding is a great reflection of our culture as a whole. As a new team member, it was great to know that my thoughts and opinions were valued by the entire team.
Why do you think these team retreats are beneficial?
Aaron S. I've come to really love our team retreats and look forward to them each year. It's something that makes The Mission Continues even more special to me. The retreat shows the collaborative nature of our organization and how much we value each staff member on our team. Our President, Spencer Kympton and the leadership team put together an agenda that balances a mix of team building, goal setting, mission alignment, and professional development.
We didn't always have team retreats, but then again we didn't always need them because we were mainly based out of St. Louis. Now we're more decentralized and spread out across the country. Most meetings take place virtually on Google Hangout. With five regional offices in LA, D.C, Houston, NYC, and St. Louis and another one coming soon in Chicago, it's important that we come together to maintain relationships, share ideas, and form a cohesive vision of our future work. Every year we need a bigger room – a sign of our exciting growth!
Alex K: I became part of The Mission Continues team just a few months ago, working with development and operations. And if I could describe the retreat in one work it would be "clarity." We gained clarity on our mission, our programming, and our roles as team members. It was truly invigorating and left me ready to tackle new challenges as our organization continues to grow.
The best part for me specifically was finally meeting staff members in person, all in one location. While technology allows us to connect in multiple ways (Google chat, video conferencing, and phone calls), there's nothing like getting to share lunch with people you've been emailing for the past three months.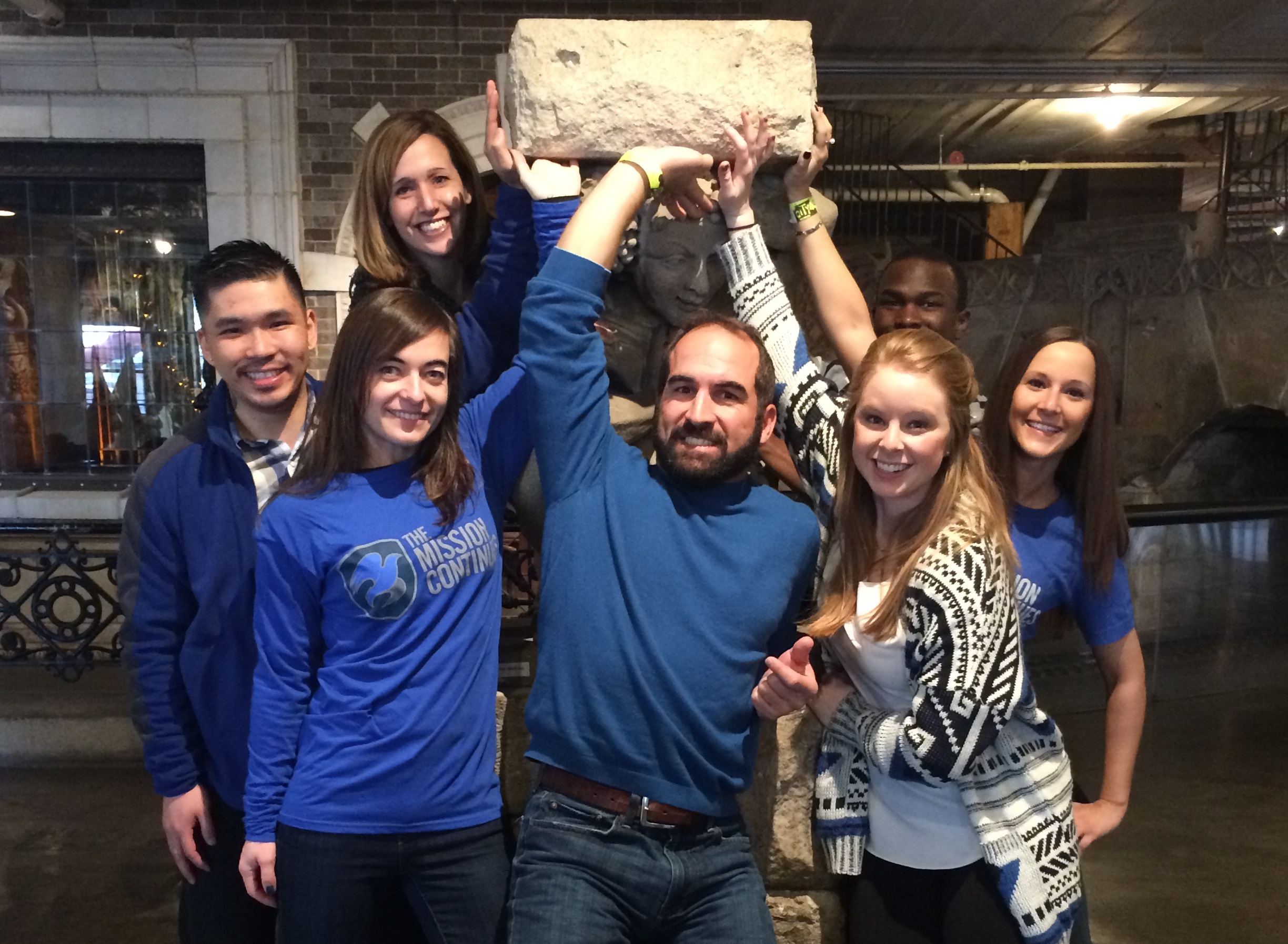 What was your greatest take away from the retreat?
Alex K: As a new team member, the retreat really solidified my understanding of our organization's mission. I recognized during the retreat that everything I do behind the scenes on the development and operations team is helping us achieve our mission: to empower veterans facing the challenge of adjusting to life at home to find a new mission.
Aaron S: I've been on many teams in my life, through college sports and the Army, and I can say with certainty that this is one of the strongest teams of which I've been a part.  That team strength was on full display during the retreat and starts with The Mission Continues culture and core values.  Our core values are the starting point for what we expect from each other:
– Work Hard
– Trust
– Learn & Grow
– Respect
– Have fun
At the retreat, we spent a good deal of time talking about the core values, thinking about why they exist and using them as a guide to form the right culture, so that we can all thrive and contribute meaningfully. I came away with a greater feeling of connection to our team and alignment on how we will work together to accomplish our big goals across the country.
***
Interested in joining the team? Good news, we're hiring! Visit our careers page for our full list of opportunities.