Ray Odierno Director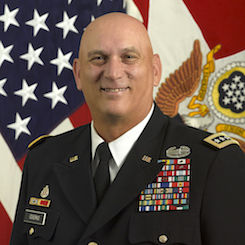 A native of Rockaway, N.J., General Raymond T. Odierno, USA (Ret.) attended the United States Military Academy at West Point, graduating in 1976 with a commission in Field Artillery. During more than 39 years of service, he commanded units at every echelon, with duty stations in Germany, Albania, Kuwait, Iraq and the United States.
From October 2001 to June 2004, Odierno commanded the 4th Infantry Division, the same group responsible for the capture of Saddam Hussein in December 2003. Gen. Odierno is also considered one of the founding architects of the surge in Iraq, which helped pave the way for political progress in the region. The culmination of his military career was spent serving as the 38th Chief of Staff of the United States Army from 2011 to 2015.
Gen. Odierno's awards and decorations include five Defense Distinguished Service Medals, three Army Distinguished Service Medals, the Navy Distinguished Service Medal, the Air Force Distinguished Service Medal, the Defense Superior Service Medal, six Legions of Merit, the Bronze Star Medal, the Defense Meritorious Service Medal, four Meritorious Service Medals, the Army Commendation Medal, the Army Achievement Medal, and the Combat Action Badge. In addition, he holds a master's degree in Nuclear Effects and Engineering from North Carolina State University. He is a graduate of the Army War College and holds a master's degree in National Security and Strategic Studies from the Naval War College.
Following his retirement from the Army, Gen. Odierno became a Senior Advisor to JPMorgan Chase & Company to provide strategic advice and global insights to Chairman and CEO Jamie Dimon, the Board of Directors and members of the Operating Committee.
Gen. Odierno and his wife, Linda, have three children: son Tony and his wife Daniela; daughter Katie and her husband Nick Funk; and son Mike. He and Linda also have four grandsons. His oldest son, Army Captain (Retired) Tony Odierno, is a combat veteran.