Nana Adae Chair | Chicago, IL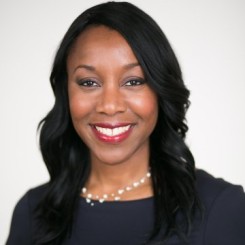 Nana Adae is a Managing Director at JP Morgan Chase. Nana currently serves as the Head of Investments for JP Morgan's Private Bank in Chicago. She started at the firm 10 years ago in New York, and has led teams and partnered with families to steward their assets and craft generational legacies. Nana's impact at the firm also includes being a founding member of the Asset and Wealth Management Black Leadership Forum. The organization started as a grassroots effort to help the firm's effort to attract, retain, and develop African American talent; and has since grown to a national Business Resource Group providing support to a broad group of members across the firm.
Nana spent 7 years on active duty in the US Navy after graduating from the United States Naval Academy with a Bachelor of Science degree in Engineering and English. During her time as a Cryptologic Officer, Nana served in Japan as well as in the Balkan and Mediterranean theaters as a Communications Evaluator onboard the EP-3 aircraft; earning the Navy Achievement Medal, The Navy Commendation Medal and the Air Medal.
After leaving the Navy, Nana earned an MBA from Columbia Business School. She lives in Chicago and also serves on the Board of the Rebuild Foundation. The organization focuses on art, cultural development and neighborhood transformation on the South Side of Chicago.